Of course, I dive into all things Notion and I've created a bookshelf. Well, I didn't create it as I copied the template from another. I mentioned this briefly from my New Notion Dashboard post, which is now outdated. More on that in other post. Here's a gif!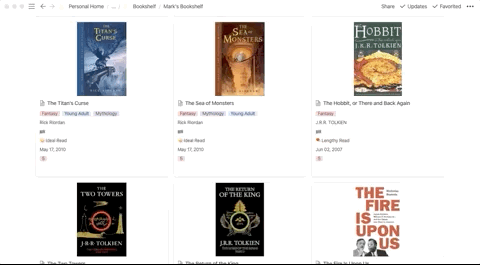 I am making my Bookshelf public and will be slowly adding my past read books, the books I've collected, such as my recently posted Troilus and Criseyde limited edition, other notes, reviews (written or audio), etc.

Why duplicate Goodreads?

I was already manually tracking what books I read monthly and target my next reads for the month. I encapsulate this all into my monthly planning and review. I am simply just making this piece public.

It will be a slow update, but I can't wait to catalogue my entire collection on this bookshelf.