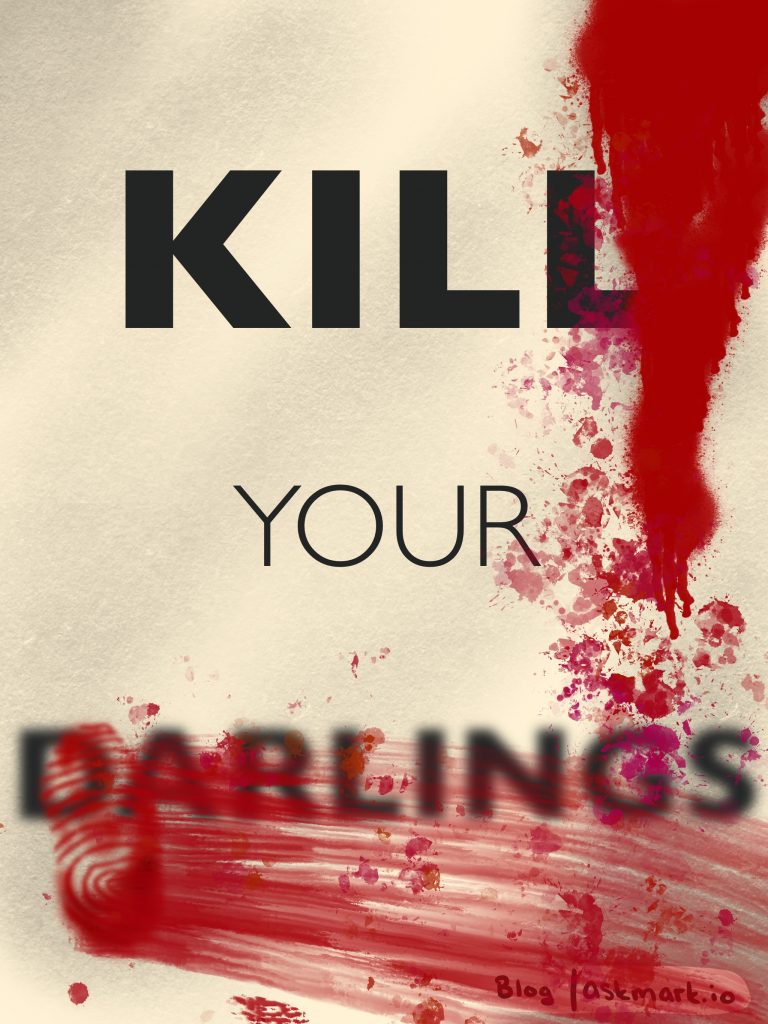 Or, Murder Your Darlings?
"Kill Your Darlings" says so much for just a few words. If you are unfamiliar with the phrase, it can be traced back to, with some argument, writer Sir Arthur Quiller-Couch in his book On the Art of Writing. The actual quote is:
If you here require a practical rule of me, I will present you with this: 'Whenever you feel an impulse to perpetrate a piece of exceptionally fine writing, obey it—whole-heartedly—and delete it before sending your manuscript to press. Murder your darlings.'
What this quote is speaking to, beside the art of writing, is to do the thing that your heart wants you to do when creating but remove your emotions when it comes to editing your work. Objectively look at your work and cut what needs to be cut, even if you love it.
How does this apply to the topic at hand? Are we going to talk about writing? In a way.
If you've followed me on other channels then you may have read and or heard about a recent decision I made; To step away from running Austin Podcasters.
The Darling I Killed
I founded Austin Podcasters in Dec 2016 and we had our first meetup in February 2017. I had also just come off the heels of making the decision to start ApexThis as an independent publishing and production house that self-generated its own projects. This has been recorded for all of history in episode 3 of the ApexThis.Podcast. That was recorded months before its release mind you.
The result of this decision led to a fight between focusing on developing my writing to publish my own books and audiobooks, learning the art of audio production, & managing a meetup. I also, foolhardily, thought that I could run a store with shirt designs, prints, and more. All of this while working at 40-60hr a week job.
This all leads to the decision, in April of 2020, to step away from running the thing that I founded. It wasn't easy making the decision but it was one that I knew was right for me. When it came to me saying the words on my own—it felt right and it felt a long time coming. Here's why:
Not Getting Things Done
most stress they experience comes from inappropriately managed commitments they make or accept.

David Allen "Getting Things Done"
Out of the gate, there was a flood of things I had agreed to do when I started Austin Podcasters, especially considering that I am a control freak. I had agreed to run yet another user group which means:
creating and managing content
planning and organizing event
sourcing content and speakers
sourcing and booking locations
listening and responding to members feedback
social media and online presence
There is time dedicated to planning, building, creating and organizing such things, and that time was immediately stolen from my writing. I did progress, albeit slowly, with ApexThis projects, but they started to become lower priority.
Considering I am one for productivity, I co-host a podcast about such productivity, I could never find a groove. My productivity methods and lifestyle changed to try and focus on writing and I ultimately experienced major burnout at the end of 2018. This prompted me to take nearly 4 months off from working on anything. (With the exception, of the day job of course.)
The drive back into working on projects was slow but there was this nagging thought:
What is it that I really want to be working on?
It took a year to figure it out and work through the processes. If this strikes a cord with you, it could be that you are also working on things you love, but are not moving you forward.
The Aha Moment
You do not rise to the level of your goals. You fall to the level of your systems.

James Clear "Atomic Habits"
2019 saw a big change in how I worked given that I was coming out of a burnout. I prioritized more self-care days and shrank my "work hours" so that I wasn't running 100% everyday. The workload didn't go away and instead increased.
I re-read Atomic Habits by James Clear, I read Getting Things Done, by David Allen as well as many other productivity books and I changed from focusing on goals, to focusing on process (systems). While I had a goal to write and many writing projects, my process for writing was non-existent. I asked myself "If I were to write more, what would I need to leave behind?"
The Audit
I came across a blog from Julian Shapiro, a founder of Demand Curve and a writer. He has several guides and blog pieces that he wrote and one was entitled What to work on. In this, he broke down his analysis of finding out what interests or excites him and what he values from his projects. In his writing, this line stood out to me:
Determine which path you'd be more regretful not having pursued by the time you're 80 and are reflecting on your life choices.
What would I regret not pursuing when I am 80? Writing & Publishing.
What am I doing to not have this regret? Nothing.
If I were to focus on writing & publishing, would I have time for anything else? No.
Would that be bad? No.
Simple questions that laid out what I was passionate about.
I've Killed My Darling
Once Covid-19 hit, any thought I had about stepping away was solidified. Running the meetup was no longer something I wanted to do as the meetup and all the surrounding activities did not put me on the path I wanted to follow. While I loved the members and being surrounded by podcasters, it did not further my writing, nor my publishing and only sought to further take me away from such activities. This was ever more present in my time tracking as each year grew in hours dedicated to Austin Podcasters while time for ApexThis shrunk.
A hard decision but the best decision or me at this time.
A two-months in and the days are as cool as my AC vents allow it to be here in Texas, but I have a smile on my face. I'm writing more, I'm creating more. I'm back to where I've wanted to be 3 years ago despite the beautiful detour.
In summation;
Start saying "No" – Here is wallpaper to help.
Listen to yourself when you feel something is wrong.
Continually reassess what you are working on and why.
Focus on the process and not the goal. Goals are great, but what are you doing about them?
You can't do everything, that's OK.
Be sure you are resting.
You're not a failure if your priorities change
Maybe in a few years I will look at my projects and say to myself, "I think I want to do X now." And another darling will be killed, or at the minimum, succumbed to a deep coma to return another day.
What Darlings do you have? Are they what you want to be working on? Are they moving you forward with your focus in life?