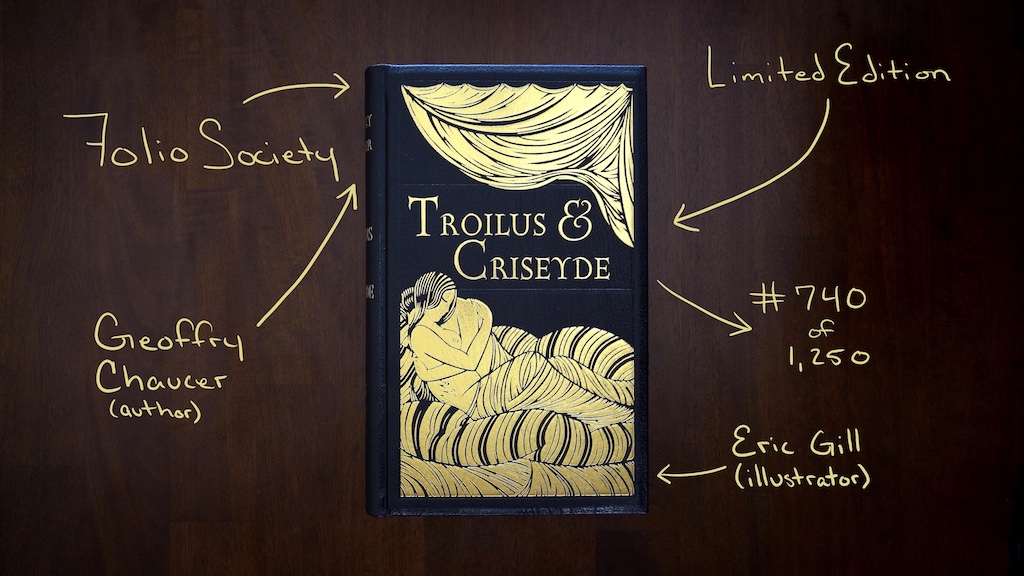 Title: Troilus & Criseyde
Author: Geoffrey Chaucer
Introduction: Roderick Cave and Professor Barry Windeatt
Illustrator: Eric Gill
Publisher: Folio Society
Original Publisher: Golden Cockerel Press
This is the Folio Society Limited Edition Facsimile of Geoffrey Chaucer epic poem "Troilus & Criseyde." It tells the tale of two lovers during the siege of Troy. This is #740 of 1250 editions.
When I say this book is beautiful, it is beautiful. When I first opened it, I thought I was skipping pages because the pages were so thick. It gives a wonderful feel when you run your fingers through through the pages. Talk about a page turner. Further, the illustrations throughout the book, and colored drop caps, really make it stand out,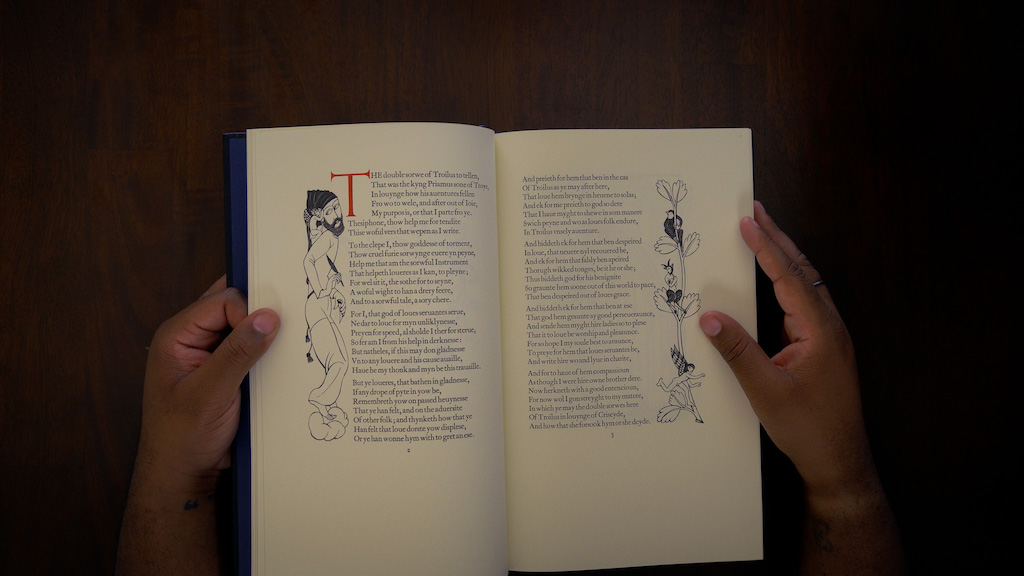 It may be hard to read this as it is written in Middle English and is a work that exists in the shadow of Mr. Chaucer's much studied "The Canterbury Tales." Let's look at the first two lines of the third stanza from the picture above:
For I, that god of loues seruantes serue,
Ne dar to loue for man unliklynesse,
A first take glance and what I know of some languages, I am able to "translate" some words as anyone would and those two lines would be something like:
For I, that god of loves servants serve,
Nor the to love for man unlikeliness
Or I could be completely off. It still takes mental work to translate on the fly, then ruminate on the meaning of the words and phrasing of that time to understand it in whole. It is both wonderful to read an epic poem as this, study its meaning, and analyze the methods. I am always fascinated by works that I get where there is an extensive body of work analyzing the work itself. Reminds me of my copy of Iliad I have that has an 80 page introduction explaining how to read Iliad. We will ignore the argument as to whether the Iliad should be read but we are speaking of Troilus!
Book Details
Printed on Rigoletto Panna felt-marked paper
5 full-page illustrations
Decorative borders
Leather bound
Blocked in 22-carat gold
Gilded on all edges
Includes essays by Roderick Cave and Professor Barry Windeatt
Video
There is nothing like an unboxing video. Here is a short look at this beautiful piece of work as I take it from the packaging. As a teaser-I too own The Canterbury Tales…: