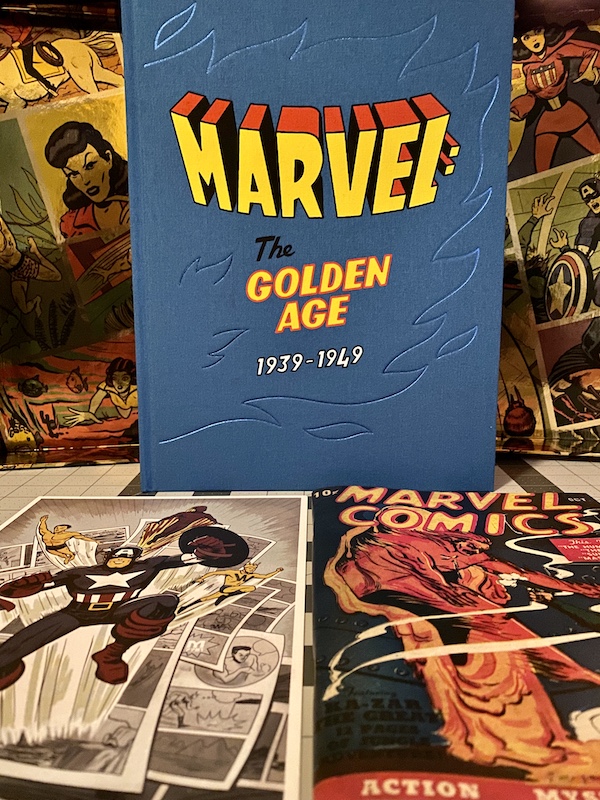 Title: Marvel – The Golden Age
Introduction: Roy Thomas
Illustrator: Marco D'Alfonso
Publisher: Folio Society
Original Publisher: Bantam Spectra (US), Voyager Books (UK)
I was smack dab in the middle of a conference, walking down its corridor to grab myself a coffee when my phone buzzed. I opened the message and it was an email from Folio Society—it told of my chance to make an early pre-order for this Marvel Partnership. I never clicked buy so fast.
I love comics. Or, I did when I was young. I still enjoy them and I purchase the odd manga for series I am interested in but I am not so much of a reader as I was all those years ago. Even so, I could not turn this down.
Folio Society and Marvel have teamed up to bring us reproductions of 4 comics in their Golden Age:
Sub-Mariner #1
Human Torch #5
Captain America #10
All Winners #19
The above 4 comics are bound in a single blocked cloth book. Separately is a facsimile of Marvel Comics #1 along with a print of Captain America. This is all encased in a metallic foil box.
No descriptions really give it justice. You just have to see it for yourself. I am just so happy to have this in my collection to read.
Video
This book also had a competition to win another book from Folio's holdings and thus I made an unboxing video. This was hastily done, meaning, I shouldn't have been working on it, and I edited it on my phone.

Without further ado, here is the Instagram (vertical) video for this unboxing: