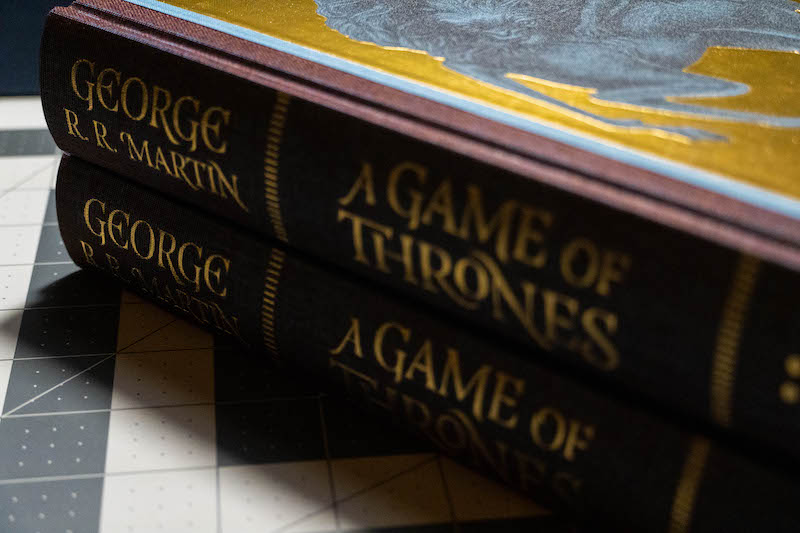 Title: Game of Thrones
Series: A Song of Ice and Fire
Author: George R.R. Martin
Introduction: Joe Abercrombie
Illustrator: Jonathan Burton
Publisher: Folio Society
Original Publisher: Bantam Spectra (US), Voyager Books (UK)
On this long list of things to do, I was going to write a post about books, and then plan out how to do a book post series across the blog, twitter, and Instagram, with pics and videos. This was all going to be structured and properly planned and prepped and then I received my collector's edition of Game of Thrones. #@!& it! We'll do it live!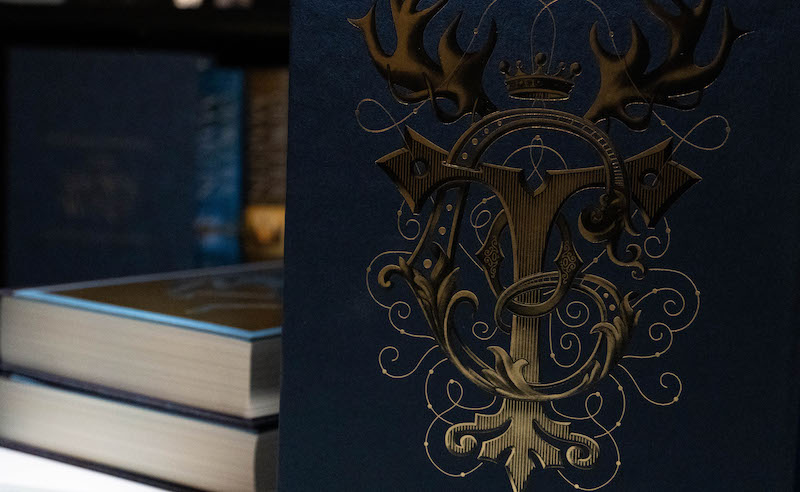 Fanboy
I am a big fan of George R.R. Martin, and I have quite the collection of Folio Society books. Thus, purchasing their collector's edition of the first book, Game of Thrones, was a no brainer for me.
On Martin
A Song of Ice and Fire series certainly is not the first fantasy series I've read but it is one that I've loved the most. The sense of realism, a historical type of narrative, and the dense layering of the story has just pulled me in and made me a big fan of the series, and of Martin himself. Granted, I'm not THAT huge of a fan to where I've built a shrine to Martin and knows what he had for breakfast, but I have watched several of his interviews read his essays, and read his other work. I've even copied his work (future post on this subject) as my own personal way to analyze his writing style and structure. A fan, indeed. His work, besides Tolkiens, is the only I've read multiple times.
On Folio Society
The Folio Society publishes special, collectors, and limited editions of literature work whether it is fiction or non-fiction. A vast majority of their books all come with a slipcase to help keep your books protected and free of dust. The pages are sewn in sections with head and tail bands. Many books, despite being in a slipcase, have gilded top edges.

Furthering the design is the thought taken into the typography for the book, its endpapers, the printed paper, and cover ranging from blocked cloth to vellum.

I don't expect you to know what this all means, but it combines into making a beautiful book to not only look at but to hold as well. This is also the reason why a vast majority of my book collection is of Folio Society books. They are just stunning in every way.
Illustration
When it comes to my books, I love for them to have illustrations! You may be able to tell from my not-so-good illustrations for my book reviews. Folio Society books have many illustrations, not just from the cover art, but for the pages within. For this edition from Folio, Jonathan Burton provides the illustrations and they are stunning.
Each chapter has a sigil or chapter illustration. The above is the illustration accompanied by chapters for Jon. Isn't it just a looker?

The two volumes each have 6 full-page illustrations and 2 double-page illustrations by Burton. Including the interior of the slipcase which I failed to capture in the video below and separate pictures posted here.

Burton does amazing work throughout the book and it will join my collection of other Folio Society books illustrated by him such as Nineteen Eighty-Four and The Hitchhikers Guide.
Introduction
Introducing this work is author Joe Abercrombie and it is utterly fitting that he does so. While not creating the genre, Joe Abercrombie is considered to be "the king" of grimdark fantasy. Don't know what that is? It's exactly what A Song of Ice and Fire series is, which inspired Joe in his work creating The First Law series. It is dark dystopian work and is often considered to be "anti-Tolkien" which makes a great addition to have this book introduced by Joe and approved as such by Martin himself.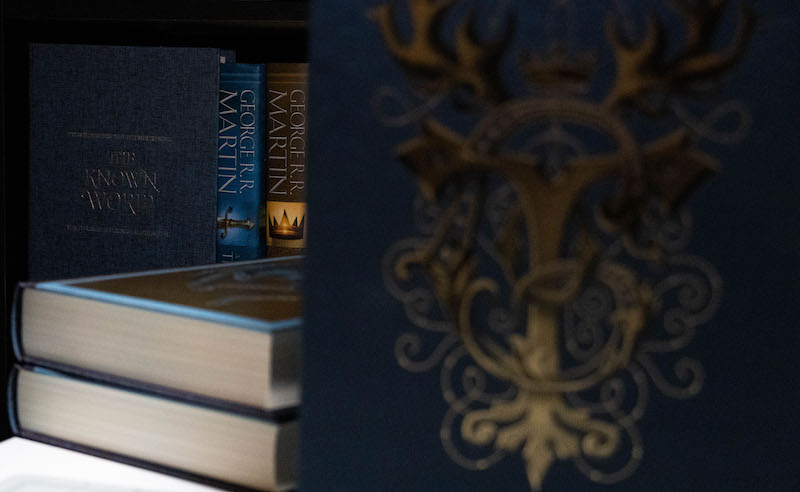 Video
In my excitement in receiving this book, I could not help myself in first marveling at the design, smelling it, and thumbing through the pages. Secondly, I had to take pictures to post on Instagram. Lastly, I also had to take video, which is something I've been playing a lot with on Instagram for book reviews and book collections. That continued with receiving this book and as a result, I decided to create a YouTube channel where I can upload these videos from time to time. Future videos will be properly optimized per platforms. This is what happens when you "do it live."

Without further ado, here is the Instagram (vertical) video for this unboxing:
In Closing
This beautiful collectors edition will join my existing set of signed books from the series and I'm even spurred to start reading the series again. Or at least, earlier than I planned to as a re-read of Lord of the Rings is in order, first.

Despite concerns that others may have with reading incomplete series, I have no such concerns, nor concerns in collecting works like this, for a series, that is incomplete. I am a fanboy of Martin, and of Folio Society, therefore, if they produced work on a bar napkin, I would collect it.
Thanks for reading this impromptu post about the Folio Edition of Game of Thrones.